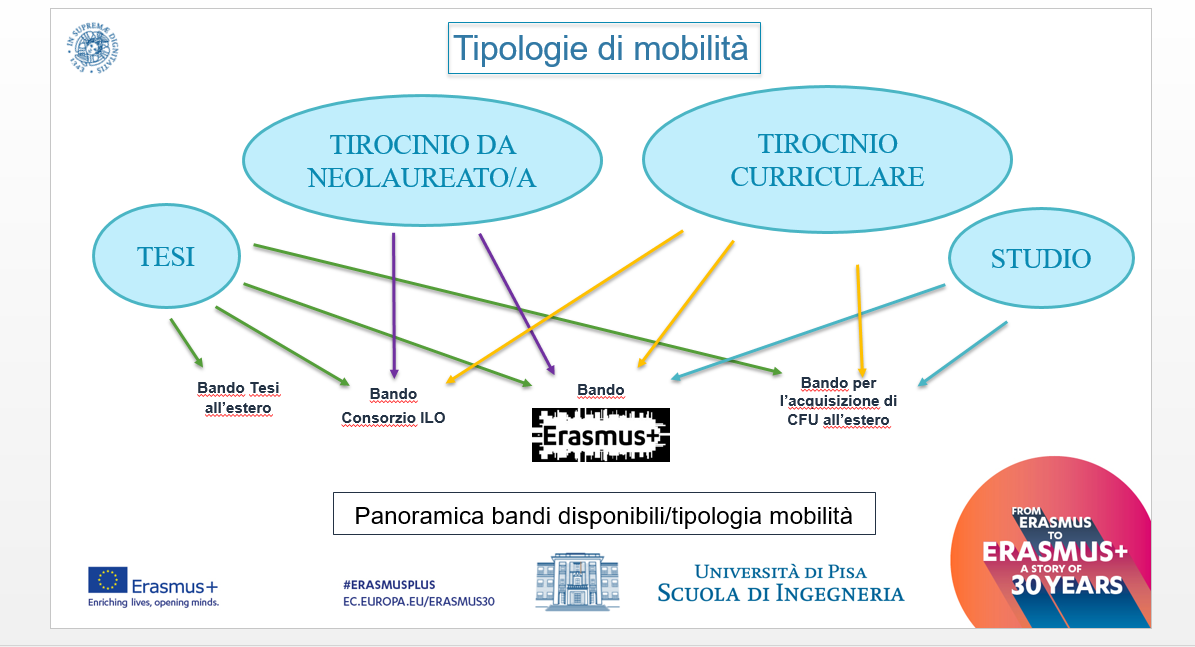 University of Pisa (UNIPI) highly promotes mobility of its students and the full recognition of credits for learning activities undertaken abroad.
This being the perspective, it is essential that all skills and knowledge acquired during the mobility (for study, traineeship, thesis project) are acknowledged in the student's career at UNIPI.
The Learning Agreement (LA) is the official document recording study/research/training activities the student intends to achieve during the mobility and of those that are finally acquired, guaranteeing the transfer of credits for courses passed successfully by the exchange student. The Learning Agreement should be signed by responsible authorities within the home and hosting universities, as well as the student before the mobility starts. Any change to the Learning Agreement needs to be agreed by all three parties. Prior to signature, the Learning Agreement is submitted to the approval of the relevant Degree Board.
International Coordinators (CAI) organize and assist various kind of activities regarding internationalization of the relevant department (delibera SA 199/2015). They are the reference contact for students interested in mobilities outside UNIPI.
International Coordinators are assisted by administrative staff (aiuto-CAI) for all bureaucratic matters.
International Coordinators (CAI) and Assistants to International Coordinators (aiuto-CAI)
DEPARTMENT OF CIVIL AND INDUSTRIAL ENGINEERING (DICI)
International Coordinator: Prof. Paolo Sebastiano Valvo (This email address is being protected from spambots. You need JavaScript enabled to view it.; This email address is being protected from spambots. You need JavaScript enabled to view it.; This email address is being protected from spambots. You need JavaScript enabled to view it.)
Assistant to International Coordinator: Ms Alessia Bartalucci (This email address is being protected from spambots. You need JavaScript enabled to view it.; This email address is being protected from spambots. You need JavaScript enabled to view it.; This email address is being protected from spambots. You need JavaScript enabled to view it.)
DEPARTMENT OF ENERGY, SYSTEMS, TERRITORY AND CONSTRUCTION ENGINEERING (DESTEC)
International Coordinator: Prof. Sauro Filippeschi (This email address is being protected from spambots. You need JavaScript enabled to view it.; This email address is being protected from spambots. You need JavaScript enabled to view it.; This email address is being protected from spambots. You need JavaScript enabled to view it.)
Assistant to International Coordinator: Ms Marina Flaibani (This email address is being protected from spambots. You need JavaScript enabled to view it.; This email address is being protected from spambots. You need JavaScript enabled to view it.; This email address is being protected from spambots. You need JavaScript enabled to view it.)
DEPARTMENT OF INFORMATION ENGINEERING (DII)
International Coordinator: Prof.Luca Sanguinetti (This email address is being protected from spambots. You need JavaScript enabled to view it.)
Assistant to International Coordinator: Ms Sara Andrenucci (This email address is being protected from spambots. You need JavaScript enabled to view it.; This email address is being protected from spambots. You need JavaScript enabled to view it.; This email address is being protected from spambots. You need JavaScript enabled to view it.)
International Office Engineering
is located inside the School of Engineering premises
(building B46 - Unit A, first floor)
Largo Lucio Lazzarino, 1 - 56122 Pisa
Opening hours:
For DICI : Monday, Wednesday and Friday from 9,30 to 11,30
For DII : Mondayfrom 9,00 to 11,00
Wednesday and Friday from 9,30 to 11,30
For DESTEC : Monday and Friday 9,30 to 11,30