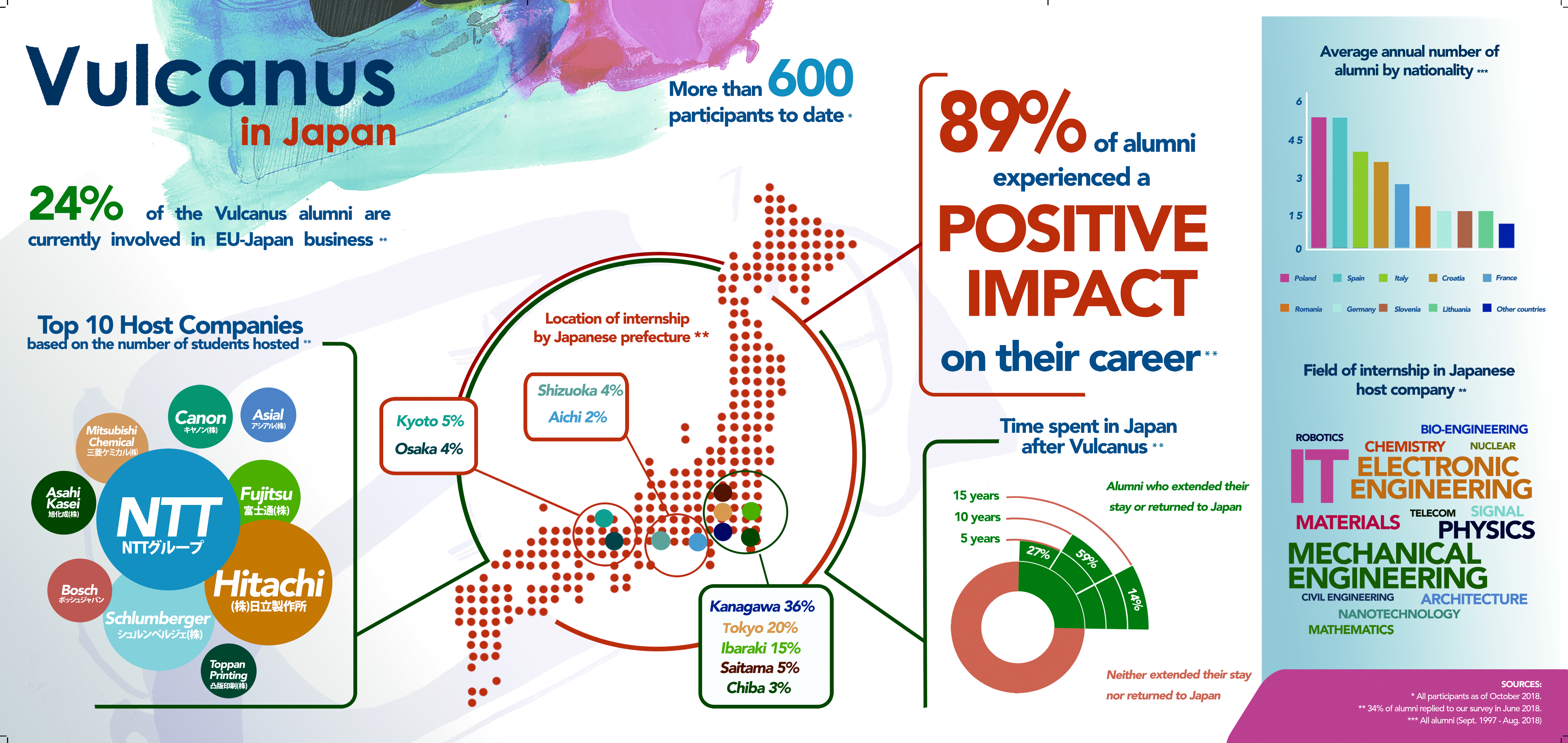 "Vulcanus in Japan" is addressed to EU students and offers the possibility to carry out a traineeship in a Japanese company. It starts in September and ends in August of the following year in order to accommodate the academic year in EU Member States.
The students follow:
a one-week seminar on Japan,
a four-month intensive Japanese language course,
and then an eight-month traineeship in a Japanese company
Vulcanus in Japan started in 1997.
Who is eligible:

-citizens of an EU Member-State

-students of engineering or science at an EU university, enrolled –at the moment of application– in between the 4th official year of studies and the penultimate year of PhD.

-able to provide a certificate of enrollment at the university valid until at least 3 months prior to the starting of the programme
UNIPI Contact:
International Cooperation Unit
Phone +39 050 2212227
e-mail This email address is being protected from spambots. You need JavaScript enabled to view it.
At the follwing link http://www.eu-japan.eu/events/vulcanus-japan information and documents on the 2020-2021 Call
The EU students are awarded a grant (Yen 1.900.000) to cover the cost of travel to and from Japan and living expenses in Japan. There is no charge for the language course and seminar, and accommodation is provided free of charge during the course and seminar and the company traineeship.

Applicants are short-listed on the basis of their academic record and the opinion of their tutors, their knowledge of written and spoken English, their motivation, their attitude to EU-Japan relations and their ability to adapt to a different culture. The final say lies with the Japanese host companies.
UNIPI's Engineering students interested in participating must verify with the Departmental Teaching Unit the possibility to obtain authorization to the mobility and the consequent registration and recognition of activites done abroad in part of the Degree Course Council. Only authorized activites will be recognized and will be included in the Learning Agreement.
Deadline to apply for session 2019/2020: 20 January 2020
Fore further Information:
EU-Japan Centre for Industrial Cooperation
52 Rue Marie de Bourgogne
B-1000 Brussels, Belgium
Tel. +32 2 282 3715; Fax: +32 2 282 00 45
Web site: http://www.eu-japan.eu/events/vulcanus-japan
E-mail: This email address is being protected from spambots. You need JavaScript enabled to view it. E-mail: This email address is being protected from spambots. You need JavaScript enabled to view it. (for students)