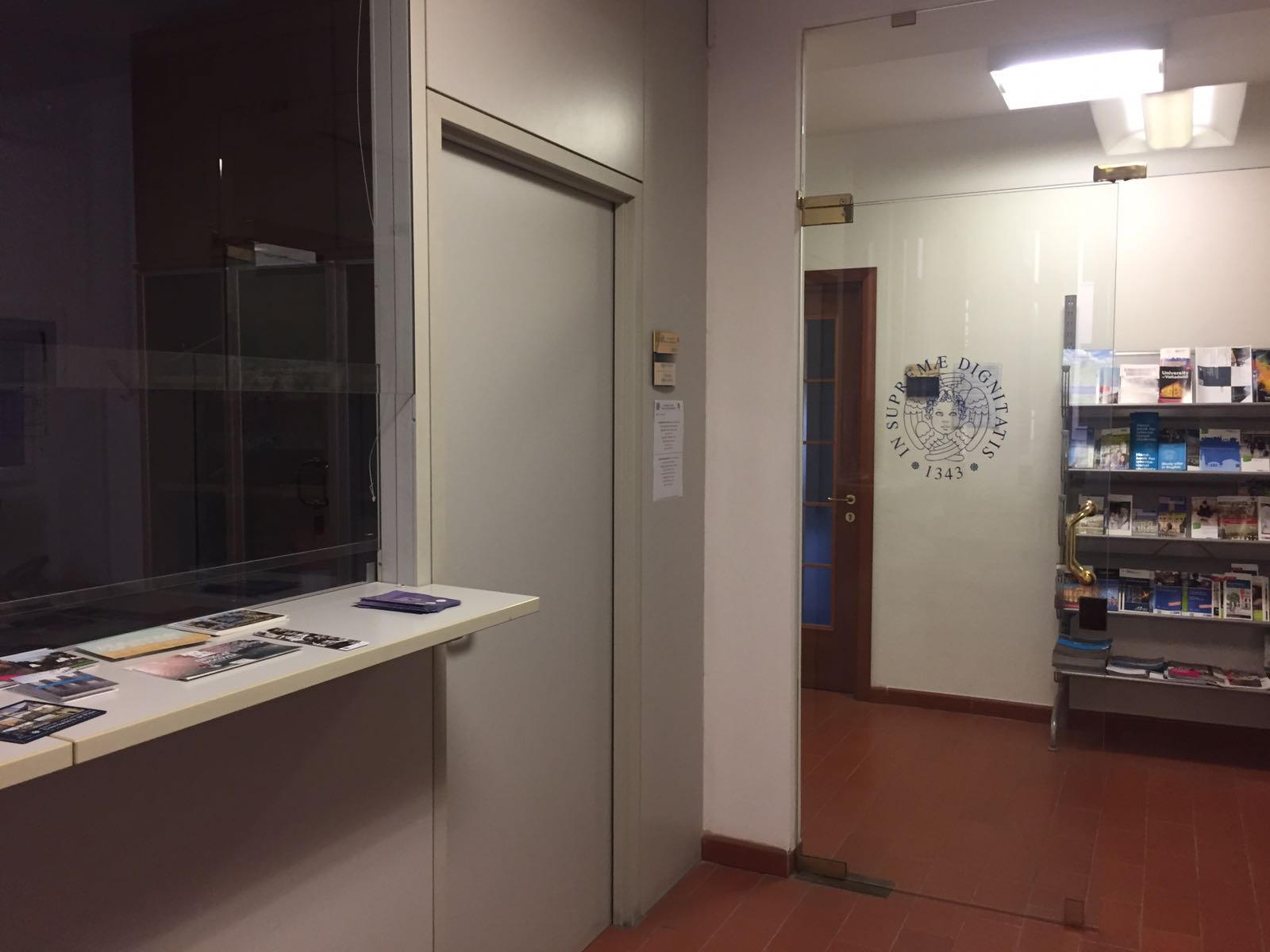 The School offers services to students
Front-Office desk
The service if offered by part time students and provides information on the teaching offer, about enrollment, student services, traineeships etc.
Opening time: from Monday to Friday 9.00-13.00. PHONE NUMBER: +39 050/2217031
It is also possible to get an appointment out of the opening hours, writing at: This email address is being protected from spambots. You need JavaScript enabled to view it.
To get general information, also contact : This email address is being protected from spambots. You need JavaScript enabled to view it.
General info about student services is also available on "UNipiù. Istruzioni per l'uso dell'Università di Pisa" a tool meant to help a new student to better understand how to adjust to the academic world, providing short and easy data on the working principles of a degree course, whom to contact to solve problems, services and possibilities offered outside the learning area.
Engineering International Office
The Engineering International Office offers assistance and advise to students and teachers involved in international activities and particularly regarding mobilities abroad.
More info at the International section of this webiste and at the International section of UNIPI's website.

Opening time: For DII and DICI Monday, Wedensday, Friday 9.30-11.30. For DESTEC Monday and Friday 9.30-11.30.
PHONE NUMBER: +39 050/2217035/'29
---
Tutorship Programme
The service if offered by students and is aimed at supporting other students in a certain numer of activites such as contacting teachers and offices and offering informational consultation.
The role of the tutor is therefore dedicated to welcoming students and addressing them towards dedicated services so as to allow a better integration in the academic environment and a better opportunity to make use of existing personal growth opportunities.
More info about the service in the article with UNIPI's Presentation.
Opening Hours: from Monday to Thursday from 13,30 to 17,30 and on Tuesday from 9,30 to 13,00 - PHONE NUMBER: 050/2217028 e-mail: This email address is being protected from spambots. You need JavaScript enabled to view it.
Notice that assistance to students is primarly done by teachers. The suggestion is to ask the name of the teachers tutoring students at the Front Office. Talking with a teacher can help the student understand if a problem can be solved and how.
Other services to students are offered by the Teaching Units, from UNIPI's central Students Secretariat (map of the Students Secretariat in Largo Bruno Pontecorvo e and UNIPI's oriantation office - building G), from UNIPI's Welcome Office for international students and from the Engineering orientation service (upon appointment).
The School of Engineering Offices in general support the School's Dean in the management of the School and the supervision of procedures aimed at enhancing qualily in teaching. The School staff also helps in the preparation of the classes timetable and exams calendar, supervises the classrooms use, supports activites related with entry tests, OFA, open days, website upkeeping, front office management, licences exams, degrees award ceremonies. The School also coordinates activites with Presidents of the Degree Courses finalized at identifying members of the degree commissions and manages the School car parking.